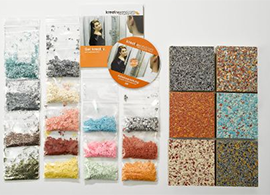 Kreativwand.com's product range offers you everything you need to renovate and decorate walls, ceilings and floors.
Use the primer on smooth surfaces. You can modify the white base as you wish using various shades.
The granules come in many different colours. New colours are available at the store.
With the sealant you can make the decorated surfaces smooth and resilient.
For outdoor areas (decks, garages, steps, balconies, swimming pool edges, etc.) there is a UV-resistant, polyurethane-based sealant.
Order a set of samples now with a DVD in our store.